---
The Hawaii State Capitol is the official statehouse or capitol building of the U.S. state of Hawaii. From its chambers, the legislative branch performs its duties in governing the state.
This video provides information on getting to the Capitol, parking, self-guided tours, locations, and more. Or, scroll down for additional information and resources.
---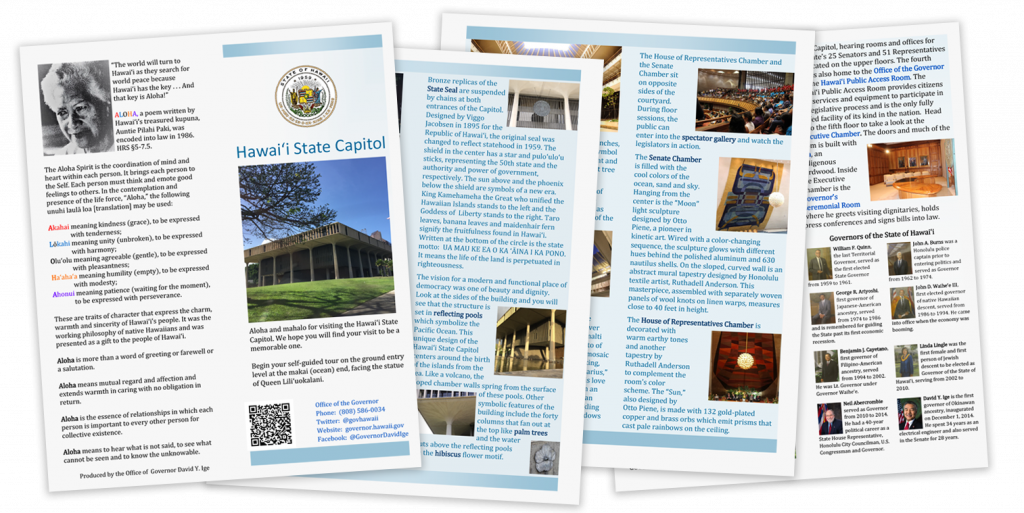 Take a Self Guided Tour
While guided tours are no longer offered at the Capitol, you may contact your legislators to see if their offices can be of assistance if you have a group.
Or simply use this self guided tour brochure to learn about the symbolism behind the architecture and design of the capitol building, the history, and features of the grounds.
---
Find Parking
There are a limited number of metered parking stalls in the underground parking garage (accessible via Miller Street off of Punchbowl Street). The meters take quarters and there is a change machine. Additional metered parking may be found on the grounds of Iolani Palace (accessible via King St.), the Department of Health building on Punchbowl Street, and adjacent streets. There are also numerous public parking lots in the downtown area.
There are convenient bike racks located in the Capitol's underground parking garage, as well as on the ewa makai corner of the grounds (the Iolani Palace and Richards St. corner).
The Bus also has a number of routes that are convenient to the Capitol.
Wi-Fi
Free Wi-Fi is available throughout the building, and does not require a password. Convenient work tables and a recharging station are available in the Public Access Room (room 401).
Capitol Map
A building map showing conference rooms and legislators' room numbers can be found on our Current Legislature page.